Grundisburgh Res overturn 2-0 deficit
GRUNDISBURGH Reserves fought back from 2-0 down to win in the Suffolk Primary Cup.
GRUNDISBURGH Reserves fought back from 2-0 down on Saturday to reach the third round of the McDonald's Suffolk Primary Cup.
They were trailing 1-0 at Laxfield, the 2020-21 runners-up, at the interval in Saturday's second-round tie, and fell further behind in the second period.
However, they then scored three times without reply to reach the last 16 of this season's competition.
Cavendish were the biggest winners – 10 at Hundon Reserves, while Redgrave Rangers were 7-0 winners at home to Thurlow Reserves.
Coplestonians Development, one of last season's losing semi-finalists, beat Bramford United 5-1. Kyle Middleton (maroon shirt, No.7) is pictured above unmarked in the Bramford United penalty area to head home his second and Coplestonians Development's fourth goal. Photograph: Ian Smillie
Two ties were settled on penalties – Cockfield United Reserves progressing past West Row Gunners 5-4 after a 1-1 draw and East Bergholt United 'A' put out Woolverstone United Reserves 6-5 following a 2-2 draw.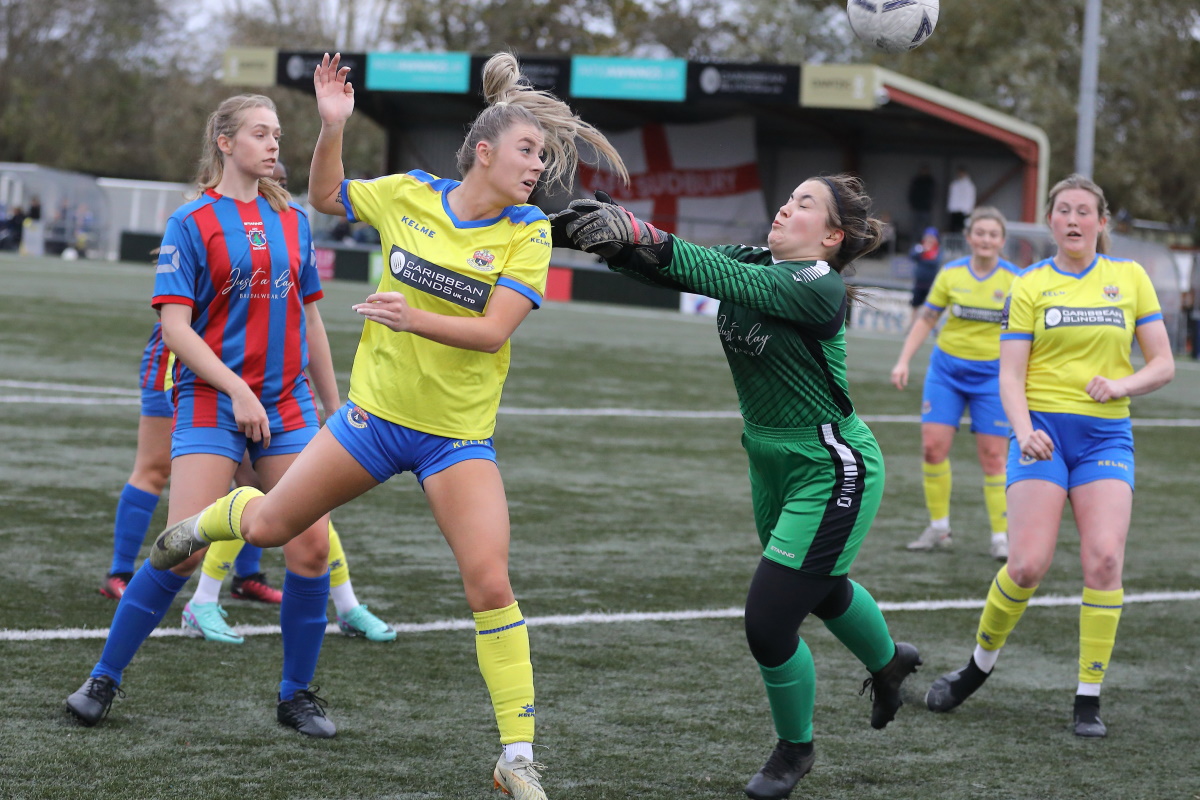 AFC Sudbury's Chloe Brame (yellow shirt) is pictured above heading home one of their goals in their 10-0 victory over AFC Kesgrave. Photograph: Steve Screech
Halesworth Town won a penalty shoot-out 4-2 at Kesgrave Kestrels on Sunday afternoon to book their place in the third round of the MH Goals Suffolk Women's Cup.
Both Needham Market's sides progressed – the first team beat Beccles Town Development 14-0, while their Development side won 13-1 against Bacton United 89.
Brantham Athletic's first team beat their Reserves 6-0 to reach this season's quarter-finals, while AFC Sudbury knocked out AFC Kesgrave 10-0.
It's the second round of the Veo Suffolk Under-18 Midweek Cup this week, starting with two ties on Monday night and a further five on Thursday plus the one outstanding first-round tie.
Holders AFC Sudbury, who defeated Framlingham Town 10-0 in round one, will now travel to Kirkley & Pakefield on Thursday.
Weekend Results
Saturday
McDonald's Suffolk Primary Cup Second Round: Achilles Res v Unity – postponed, Boxford Rovers v Bacton Utd 89 Res – postponed, Brantham Athletic 'A' v Coddenham Athletic – postponed, Cockfield Utd Res 1 West Row Gunners 1 – Cockfield Utd Res won 5-4 on pens, Coplestonians Development 5 Bramford Utd 1, East Bergholt Utd 'A' 2 Woolverstone Utd Res 2 – East Bergholt Utd 'A' won 6-5 on pens, Hadleigh Brettsiders v Ipswich Vale Exiles – postponed, Haverhill Town 0 Thurston Res 1, Hundon Res 0 Cavendish 10, Kesgrave Kestrels Res v Wenhaston Utd Res – Home Win Walkover, Kirton Athletic Res v AFC Oulton Res – postponed, Laxfield 2 Grundisburgh Res 3, Occold 3 Hope Church 1, Oulton Utd 4 Kessingland Development 0, Pakefield Dynamos v Beccles Town 'A' – postponed, Redgrave Rangers 7 Thurlow Res 0.
Sunday
MH Goals Suffolk Women's Cup Second Round: AFC Sudbury 10 AFC Kesgrave 0, Brantham Athletic 6 Brantham Athletic Res 0, Bungay Town v Woodbridge Town – match abandoned, Framlingham Town v AFC Sudbury Res – postponed, Kesgrave Kestrels 1 Halesworth Town 1 – Halesworth Town won 4-2 on pens, Needham Market 14 Beccles Town Development 0, Needham Market Res 13 Bacton Utd 89 1, Stowupland Falcons v Ipswich Valley Rangers – postponed.
Midweek Fixtures
Monday
Veo Suffolk Under-18 Midweek Cup Second Round: Bury Town v Waveney, Haverhill Borough v Haverhill Rovers.
Thursday
Veo Suffolk Under-18 Midweek Cup Second Round: Stowmarket Town v Hadleigh Utd.
Veo Suffolk Under-18 Midweek Cup Second Round: Brantham Athletic v Ipswich Town U18s, Cornard Utd v Leiston, Kirkley & Pakefield v AFC Sudbury, Walsham-le-Willows v Needham Market, Whitton Utd v Lowestoft Town.