'Something special' for Lowestoft Town
REACHING The FA Youth Cup Second Round Proper is 'something special' for Lowestoft Town.
REACHING The FA Youth Cup Second Round Proper is 'something special' for Lowestoft Town.
The Trawlerboys face Dover Athletic at Crown Meadow next Tuesday evening (kick-off 7.45pm) after five successive wins in this season's competition.
Academy Manager Andy Reynolds, who was assistant to first-team manager and former Lowestoft Town team-mate Jamie Godbold, said the team's success was deserving of their attitude and application.
The squad is made of players that have come through or are part of the club's Academy pathway.
Reynolds, who returned to the club with Godbold five years ago, explained: "We have a slightly different model than most clubs, but it seems to be the current best fit within this area of the county.
"We have a Saturday provision that goes from the U9-U16 age groups (Centre of Excellence) and a post-16 education programme in partnership with Access Creative College that caters for 16-19 year-olds.
"When we joined the club as staff five seasons ago, we took what was already in place and tried to add some value to it. It's taken a long time, longer due to Covid, but we are fairly happy with everything we have been able to implement so far.
"By no means are we done but there is no doubt that we are now playing a part in helping local players make big leaps in our area and everyone involved within the club should be proud of that.
"We are continuing to try and play our part at Lowestoft to steer them in the right direction as players and young people."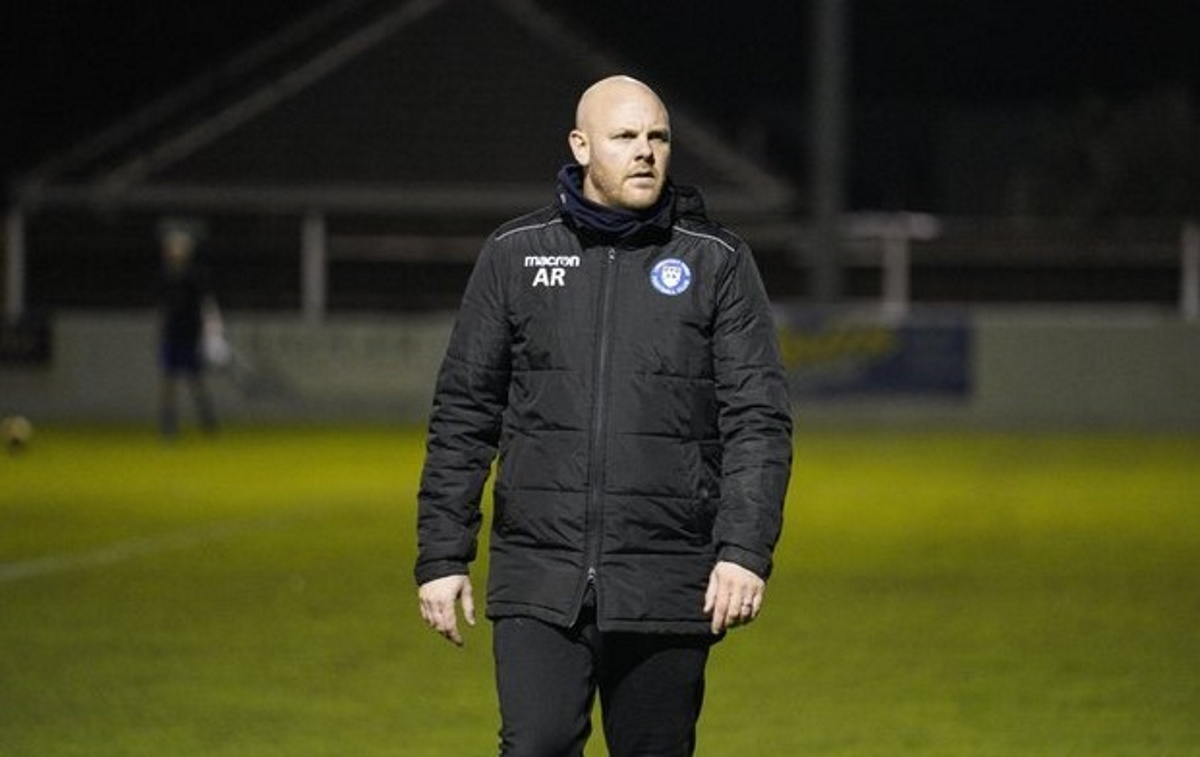 Lowestoft Town Academy Manager Andy Reynolds. Main photograph: Lowestoft Town players celebrate their penalty shoot-out victory over Concord Rangers. Photographs: Shirley Whitlow
Reynolds said many of the players within the FA Youth Cup squad also feature for Kirkley, Charleston, Waveney, Beccles and others as they navigate the transition to Senior levels of football.
Around ten of the squad have appeared in the Lowestoft Town first team either during pre-season or in league and cup games.
Reynolds continued: "Regularly we have Josh Harvey, Owen Lane and Adam Sherwood in the squad competing for places but many more on the periphery trying to get the attention of Godders (Jamie Godbold) and Gussy (assistant Adam Gusterson)."
Asked if the Academy was set up with the intention of providing a supply line of potential future first-team players, Reynolds replied: "It's absolutely something we hope to see but we don't set numerical or annual targets for it.
"We want there to be the realistic opportunity for young players to represent Lowestoft, we want them to aspire to represent their town.
"I don't want that to be something that's easy to do, just realistic. It's up to the players, coaches and parents to do their bit too. We have seen a good number of lads join Ipswich, Norwich, Middlesbrough and Wycombe from all levels of the club in the last five years and we all wish them every success and hope it becomes a career, if not and they come back, then great.
"What is great for local football is that we are exposing 100 plus players to a more challenging environment and games programme than they could access five years ago.
"This will no doubt benefit all local clubs and I hope that in the coming years these young players break into Senior football across the area and reach their own potential levels."
Reynolds, who originally had a dual role, has stepped back from being assistant manager of the first team as the Academy has grown.
He played for Lowestoft Town in the FA Youth Cup and was also the U18s manager many years ago when the club last forayed into the first-round proper and played Chesterfield at Crown Meadow.
Now the second-round proper beckons after a bye in the extra preliminary round was followed by victories overs Felixstowe & Walton United (H) 5-0, Wroxham (A) 4-1, Mulbarton Wanderers (A) 7-0, AFC Sudbury (A) 2-1 and Concord Rangers (H) 4-3 on penalties after a 1-1 draw.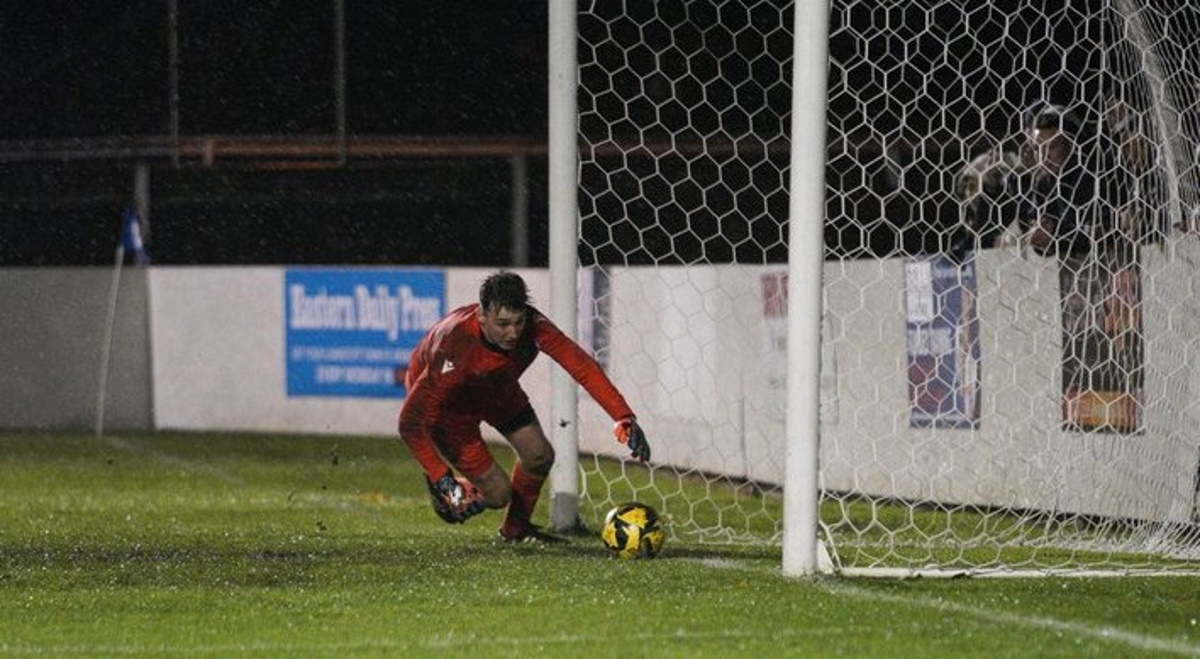 Lowestoft Town goalkeeper Ben Self pounces on the ball to prevent it going over the line and so saves the Concord Rangers penalty to send the Trawlerboys through in the shoot-out. Photograph: Shirley Whitlow
Reynolds is understandably proud of the team's achievements in making it this far in the competition.
He said: "Its outstanding! They have been deserving of this for their application and attitudes, in my opinion. I hope they realise how well they have done because it's easy for all non-league clubs to see FA competitions as a gateway to playing the big teams and no doubt this is the aim for us and Dover in the next game, but to reach this round of the competition and to stand alone as the only players locally to achieve it is something special and I hope they value what they have done to date."
Reynolds said it was difficult to pick a stand-out moment during their cup run so far: "Every round has given us a little something, to be honest.
"The way this squad is built, we don't train as a collective, we don't have any other games together, so we use all the games to build a little bit more as a group.
"The performance against Wroxham was professional, the win at Mulbarton was ruthless, we beat Sudbury, who are the county benchmark in terms of Academy provision and success in this competition, but Concord gave the lads a penalty win against the odds, so I guess it's whatever you're into really, the boys have done a little bit of everything."
Looking ahead to the tie against Dover Athletic, Reynolds said: "I've no doubt that Dover will be a very good side. I'd much rather they have to do the travelling with the distance between us both geographically and I hope we can come up with the right plan for the lads to execute.
"The reward will be more history for either team and a shot at some of the biggest clubs in the country, so motivation won't be an issue, it will come down to fine margins."